Happy Release to Emily Snow and her new book UNCOVERED!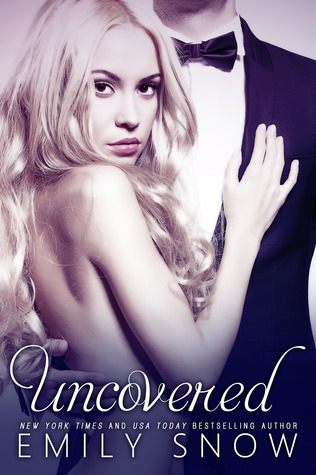 ♥BUY THE BOOK♥

My name is Lizzie Connelly, and I have it all. The gorgeous apartment. The new job most women would rip out their own souls for—working for Margaret Emerson at Emerson & Taylor. I have one of those lives you've always dreamt about, the kind you only see on HBO. But, the thing is, that life is a lie. A façade. It all started with one call. "Everything you know about your story—your father's story—is a lie. It's up to you to uncover everything." One call, and I turned my world upside down to dig my way into Margaret's life—the woman who I'd never laid eyes on until recently. My stepmother who took everything after my father died fourteen years ago. The plan was simple—figure out what role she played in my father's death and expose her to the world. But here's another thing: simplicity doesn't exist, and my plans are flawed from the beginning because I never anticipated Oliver. Sexy, too smart for his own goddamn good, and infuriating, he's the one person who could blow my plans to uncover Margaret. She's his mother, and in another life, that would have made him my stepbrother. I want to pretend that none of that matters, that I can simply finish what I came to do without sparing him a second glance and another thought. Like I said, though, there's no such thing as simplicity. My real name is Gemma Emerson. And this is my story.
~REVIEW~
"Everything you've been told about your story, your father's story, is a lie. It's up to you to uncover the truth."
Well, if that doesn't grab you from the very beginning…
Months go by after that phone call and Gemma just can't stand it any longer. She has to find out a few things:
1
.
Who made that mysterious phone call?
3.
What is real story behind the message?
The only way to find out anything at all is to become someone else. Create a façade, penetrate the fortress that is disguised as one of the biggest fashion companies in LA. Gemma needs answers. What she didn't count on was coming face to face with her past and finding out more than just what happened to her father…
"Uncover, expose, and get the hell out of there," I whispered. And though my brown and amber eyes were bloodshot from crying, the terror that was there my first day at Emerson & Taylor was mixed with something new. Determination. Anger."
I think this the first book I've read by this author. It was definitely a book I would recommend! Emily Snow has created a story that you can truly devour…in just one sitting. I loved Gemma and Oliver, the thought of their relationship was not something I would have picked up, and it was hot. Margaret is the perfect name for her wicked Step-Mother…and the role is portrayed perfectly from the dialog to the way she snaps her fingers. This book plays more like a movie than words on a page, this story comes to life from the very first chapter…no bathroom breaks, no food, water, or anything else until the end credits. I loved it.
**5 More than a Masquerade Stars**

Setting me on my feet, Oliver's palms flared over my flat stomach. I shivered—a combination of his touch and the cold metal of the refrigerator against my calves—and he skimmed his teeth over his bottom lip. Stopping at the waist of my skirt, he tugged my white pintuck top free. "I don't do jealous." With each word, he undid a button, exposing another inch or two of my skin. "But when I opened that link and saw that picture of you, I wanted to take the first goddamn flight out of New York." "Why didn't you just call and ask me?" He freed the last button and stroked his thumb over the hollow of my throat, his breath catching when he traced between the valley of my breasts. Fingering the pretty white bow between the cups of my Agent Provocateur bra, he shook his head. "Because I needed to see your face when I asked you. I wanted to make sure." "That I wanted you?" "That you weren't lying to me."



Emily Snow is the New York Times and USA Today bestselling author of the erotic romance series Devoured, which includes Devoured, All Over You, and Consumed, as well as the new adult novel Tidal. She loves books, sexy bad boys, and really loud rock music, so naturally, she writes stories about all three.