Author: Magan Vernon
Age Group: NA
Genre: Contemporary Romance
Release Date: 8/25/14
The sequel to the international hit, The Only Exception.
A boy burdened with a family legacy.
A girl haunted by a shattered past.
Both searching for answers to a future threatened by the unknown.
Three years ago, conservative Trey Chapman and liberal Monica Remy met their match in one another - and made the only exception that would change their lives forever.
Now, Trey's father is running for president, forcing Trey and Monica to put aside their personal beliefs to be the model of perfection.
But fate has other ideas, casting the family in scandal.
Some seek to use that disgrace to further their family legacy, while others refuse to let go of the past. Trey and Monica soon find themselves lost among questions that challenge their true feelings. Will they be able to rediscover that the only answer lies with one another, or will they lose each other forever?
Favourite
Quotes Guest Post
"You are who you are. No one faults you for that. At least you know what you want and you've always gone for it. Me? I've always been one of the lost boys."
Tripp Chapman was one of the more deeper characters. He didn't actually develop until around the middle of the book and everything he said just had such a deeper meaning and I loved everything that seemed to come out of his mouth. It was like he was speaking to me.
"On the outside. You show people what you want them to see and they'll make their own judgments. Don't end up like me, Trey. Don't hide your demons. Don't live a lie."
Another Tripp quote. It is kind of my own inspirational mantra. People will like you or they won't like you no matter what you do, so don't live a lie and let your crazy flag fly.
Usually I feel like if I don't know the correct response I can at least fake it.
I think this is true for all of us, especially if you're an author...or political science major.
"I love you, Monica and I'm ready to jump when you say jump."
Trey Chapman just has a way with words that makes me swoon, so I had to pick one of his swoony ones.
"Life doesn't always have to make sense, Chapman. Sometimes you just have to live in the moment."
A John Boyism. While Trey and Tripp's quotes are swoony or calculated, John is a little more brash and to the point. That's what I love about him.
See where Trey and Monica's story began, in The Only Exception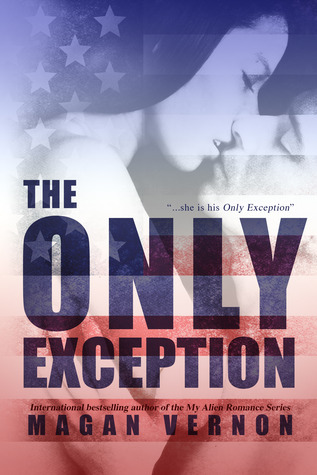 Magan Vernon is a Young Adult and New Adult writer who lives with her family in the insurance capital of the world. When not writing she spends her time fighting over fake boyfriends via social media. You can find her online on